As Christmas is now over, are you struggling to keep entertained? IndieBloom can point you in the right direction with a game series to try out – Haydee.
Created by Russian developers located in different locations around Moscow, Haydee Interactive sees the team currently working remotely (due to COVID). They had plans to get an office after releasing their latest game, Haydee 2 (which came out on the 23rd of November 2020), though they are managing well enough.
"Haydee" is a hardcore old-style Metroidvania mixed with modern-day third person shooter and platformer mechanics. You will control Haydee – half-human, half-robot character in search of her way out of a strange artificial complex full of traps, pain and depression. No casual stuff awaits you. There is no "X to win". Your gun, your instincts and your logic are your only friends. Don't drop your guard, conserve ammo and collect items on this long journey. Be vigilant, be sharp, be ready.

Be good.

Be Haydee.
How it started
The idea to start Haydee arose from the question 'How to make a game with no budget?' The answer was wanting a big game in terms of gameplay, but with a simple visual style and a simple story. However, Haydee 2 was a different beast with a different answer to a different question of 'How to make a sequel to the game when all your thoughts for its gameplay are already exhausted?'
The team found it was easy to make 10, 20 or even 60 interesting locations, but having already made 160 they were definitely repeating themselves. To combat this they decided to scrap all they had and start anew, making another game with the same core ideas, but with no repetition, being challenging, yet still rewarding. And that's how Haydee 2 was born.
Gaming mix
Further gaming influences and inspirations for the Haydee series are mainly from the survival horror genre. Resident Evil and Dead Space with their 'over the shoulder' look and shooting mechanics combined with Resident Evil's inventory management and item-based puzzles. Added next was the platforming from early Tomb Raider games with complex structures to explore (which were later removed in Haydee 2).
The challenge concept of Dark Souls made the game unforgiving but still rewarding for players who beat the challenge. While minimalistic level aesthetics from Mirror's Edge with color-based zones were added. Next, the team applied the idea of a 'player locked up in a facility with obstacles' from Portal, while the Metroidvania concept used exploration. To complete the gaming concoction, item highlighting and cybernetic vibes were lifted from Deus Ex. Very tasty.
Why these games? Because Haydee Interactive like them very much and consider each of them as an evolution point in game development. They also admire many other games which they hope to include concepts in their next projects.
What's in a name?
Want to know how they came up with the name for the character?
The name Haydée originally comes from one of the characters from the 1884 adventure novel, The Count of Monte Cristo by Alexandre Dumas. While developing the game, the team used a female polygon mesh for testing the engine capabilities. The model (created with a custom homemade engine) was given the name Haydee as a random choice. With no budget at the end, they decided to keep her as the protagonist. Along with her name too. It was original enough, simple and easy to remember.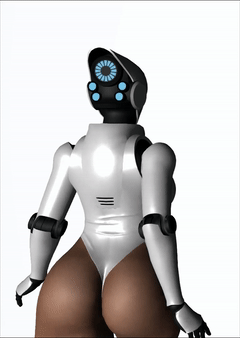 Also wondering who the character of Haydee is modelled on? 😛
Sorry it's not Kim Kardashian or Lara Croft. The team say it's not based on anybody in the real world and that she was modelled on a custom test character the programmer used in an online game.
They liked the character model for three reasons:
She was an uncommon female character in the gaming world.
We had no budget to make a new model.
We got used to her in Haydee. We decided to change her into a cyborg because we failed to create proper clothing. In Haydee 2 the decision was made that justice has to be served and we made her into a protagonist as she was meant to be (but this time with proper clothing).
When we asked the team on their favourite mod designs for Haydee, they answered,
There are a lot of good mods that we like, but we can't point to any of them in particular. Mostly they are characters from other games, but also there are plenty original designs. They are good, some of them are brilliant. But we prefer to stick to our default character look 🙂 Maybe we just got used to it too much.
What's your favourite outfit for Haydee or have you tried to create your own model?
With plenty of free game engines on the market (Unreal Engine 4 and Unity being the top ones), there were many ways to make the game, however the team felt they all have certain limitations and issues. The game engine for Haydee was called Haydee (very original) while Haydee 2 was made on HDAurora.
Haydee Interactive LLC was established in 2016, a couple of weeks before Haydee's initial release. While the team has existed for around 6 years, the core of it originated with one person working on the custom engine. 4 people worked on Haydee when it was distributed, while it grew to 9 or 10 during Haydee 2. They've lost a lot of people and found some new, as people come and go for different reasons – all part of the gaming industry. At the time of writing, the team sits at 6 members.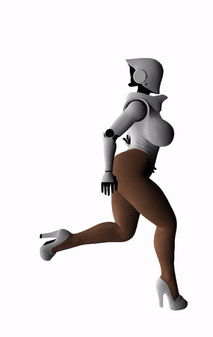 Developing Haydee
The full cycle was just over 4 years. Technically 1 and a half years were spent developing the original Haydee (with 2 and a half years to create the engine) and 2 years for Haydee 2. The remaining time was spent on the engine improvements, Haydee support and searching for a new project to make.
Being this busy, Haydee Interactive say that the most challenging experience they encountered was the lack of ideas plus resource limitations. An example being, when making Haydee 2 they found out they were unable to create another 'puzzle/shooter/platformer kinda game' because most of their ideas for those mechanics were exhausted, so they had to change their perspective by removing the platforming and expand on the puzzle/shooter part. Ultimately, this change gave them much more freedom.
The pleasing aspects so far for team Haydee have been messages from fans saying how much they appreciate what they've done. A short private message, a topic in a community forum, or a whole letter. It's all been welcoming. While the less pleasing aspects are more common, usually a lot of people complaining about things, such as not liking a new character, a lack of platforming, the character is too thick, or not thick enough etc. But sometimes a small message could make it all worthwhile. As the video game pioneer Don Daglow once said, 'It never gets old'.
Furthermore having their own independent game and company, the most satisfying thing for the team is the option to make it your way. Within that, they mention, 'Would it be possible to change game mechanics in a sequel if you have a publisher who produces your projects?' While also cautioning that 'Because all the backlash is also yours only.'
Not a PC gamer and looking to play Haydee on next-gen consoles? Unfortunately as the team is very small and the idea very appealing, this is not yet possible.
Looking back, the advice the team would give their past selves would be 'Don't be afraid to try things'. As a lot of ideas were scrapped due to resource limitations. In the end they made much more than planned.
It's all doable. You just need to jump in and solve the issues as they pop up. If we knew that, we could make Haydee 2 in two years instead of four. But now we know.
All a learning experience.
Working to the future
Keen to know what a typical working day for the Haydee team is like?
Wake up. A little work on something you didn't finish yesterday.
12 p.m. A planning meeting in Skype to decide what is to be done for today.
Working.
Around 3 or 4 p.m. some calls with some problems, issues and questions.
Working some more.
6 or 7 p.m. Another meeting in Skype to see what was done.
Working a bit more.
What next for Haydee Interactive? They have a lot of projects in mind, if they don't succeed with them, there is always Haydee 3 🙂
Though for now, they are currently sticking to Haydee 2 support. After a very hard 4 year run they are very exhausted.
Like what you see of Haydee, are a big gamer, and have also checked out the 9 other indie games that have caught our attention?
Both the original Haydee (currently 80% off, the offer ends on the 5th of January) and the latest, Haydee 2 are available to buy and play on PC via Steam. Also, follow the team on Twitter and Facebook with any feedback or keep up with the latest from them (along with checking out the many mods via the Steam community). If you like your games challenging yet provocative, the Haydee series can guide you into 2021.