Looking for relaxing, calming, natural scents to place within your home? IndieBloom can guide you in the right direction with Ohr Homeware.
Ohr Homeware is a home grown business established in West London. Our aim is to bring warmth and set the mind of all individuals who come into contact with our products in a state of tranquility and peace through arguably one of our most powerful and mind altering senses; the nose.
Ohr means light in the Hebrew language and is pronounced "OR"
Natural beginnings
How it began for Ohr Homeware
Ohr Homeware is a brand started by Salim Muhammad during September 2020, that for now currently focuses on candles and diffusers. Future plans would like to see him expand to other products such as incense sticks, smelling salts, plus more candles and oils. Salim is keen to promote Ohr's pure ethos, with essential oils as the base of the ingredients, that are free from harmful toxins and binders – Purely natural.
The smells currently on offer include ginger, lavender and lime, along other native scents. Any of those that particularly tickle your fancy or evoke pleasant memories?
The genesis of Ohr came from an idea in wanting to start something that would have a relatively low upfront cost, along with being able to be easily scaled up once expanded. Salim was further formed to try his hand (or nose) in the scent business, as growing up he was around aromatherapy and smelling oils.
Arriving home and having incense sticks around the house being burnt, so I guess over time I gravitated to that sort of thing. I also saw that candles are popular amongst women and it's a great market to target, but also men are starting to purchase candles more and more.
Lights, candles, action
How it's all made
From this incentive the process for creating his products is relatively simple, Salim describes, 'I would melt the wax, add my oils in at the right temperature then pour in the containers, allowing them to set.'
Doing everything solo has brought up some fun and not so fun challenges, which include,
Getting the measurements correct. As these are candles and dealing with different people. Some customers like a strong scent, others like a more subtle smell. So it's been a bit of a struggle trying to strike the right balance. Marketing on social media is a fun challenge for me. As I'm not the kind to post everyday but that's part of the job 🙂
With all this involvement maintaining a brand, when asked what's been the most pleasing situation so far with Ohr Homeware, Salim replies with 'customer feedback for sure. The simplicity of the brand, the affordable price and the design.'
While the most satisfying thing having his own independent brand is 'the ability to dictate how the brand goes. The fact I can listen and take on advice and critique from all corners.' Definite useful qualities all entrepreneurs should hold.
Life in lockdown
Managing a business during a pandemic
If he was to look back to the past, the advice Salim would give himself when starting Ohr Homeware would be 'the correct formula for making the candles so I won't have so much unused stock', there's a science to it 😉 Plus also mentioning to 'probably just to go ahead. Not to take so much days in-between.' 🙂
COVID, COVID, COVID – we're all most likely sick to death of hearing about it. For Ohr Homeware, it hasn't really been a negative impact as it's eCommerce with Salim starting the business during the lock-down.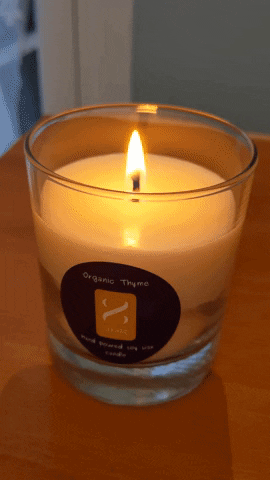 A bright future
What next for Ohr Homeware?
Whereas looking ahead, what next for Ohr Homeware? 'Keep on the path to building and growing the brand' 🙂 Along with no plans to expand the team further. Running solo (for now).
Intrigued to help a young, individual, indie brand making their way into the scent business? Check their growing Instagram and Facebook pages. To set the scene over Christmas also purchase some products. Recent promotions have seen Ohr offer big discounts, 60% off certain candles.
As always, IndieBloom aims to keep you up to date with the latest indie brands about to bloom.