With the next generation of gaming consoles launching next week (for several parts of the world), there's still some time to enjoy the current crop of games. IndieBloom are excited to present Swimsanity! by Decoy Games.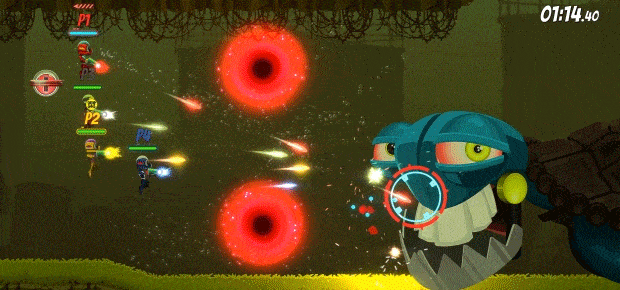 A deep dive
Decoy Games is created and developed by Boston, USA brothers Khalil and Ahmed Abdullah. Khalil's idea for the game first came about in college from a flash development class. Called Swimsanity: The Adventures of Mooba Jiver the Scooba Diver, the plot involved a scuba diver collecting as much gold from the ocean while avoiding dangerous sea creatures. To develop the game further he required his brothers help, Ahmed who used his skills on the Microsoft game development tool XNA, Khalil further explains how it came to life.
We started in XNA way back when we taught ourselves game development because back then it was one of the more accessible frameworks available to indie developers who wanted to make console games. As new opportunities came by we had to move to a cross platform engine.
Swimsanity! is a multiplayer underwater shooter, packed with co-op and versus modes (that can be played online or locally). Your character is called Mooba, a hero who comes across various power ups and weapons such as harpoons, teleportation, bombs, shocks and rapid fire to survive through the aquatic world.
When asked the meaning behind the company name (in which there were a few different options), Khalil smartly explains the deeper meaning of it, 'on the surface we are an indie game studio, and for sure that will always be our focus, but we feel that we have potential to do so much more. So in a way it's a decoy for what's to come in the future.'
Sink or swim
The Abdullah brothers are influenced by all forms of entertainment, whether it be music, movies, cartoons etc. Taking different aspects from everything they see and then combining it into one form of expression. Khalil's first console was the original NES and first game being Super Mario Bros at age 4.
Ironically for a game set in the vast ocean, Khalil can't swim, and has a huge fear of aquatic life 😀 While some traces of Mega Man and Power Rangers can be seen in the characters. Bomberman and Smash Bros influences are present within the menu. The backgrounds pull a lot of inspiration from the style of the modern Rayman games. The pair studied intensely and learnt from other great games to fit and showcase into Swimsanity!
From a multiplayer perspective the cult Dreamcast game, Power Stone was examined greatly for mastering 4 player chaos. With elements of Bomberman for simple yet complex battles, while Left 4 Dead completed the mechanics to master forcing individuals to work together as a team.
For single player games, Khalil declares his love for all the Tales of JRPG's as he likes the balance of story and its great battle system. Along with Kingdom Hearts 2 always having a special place for him ♥. Plus, to mix it up he's a big basketball fan and owns every single NBA 2K.
Feeling fin-tastic
From an admiration point of view, Twisted Pixel is an independent video games company that captured Khalil's approval early on. He explains, 'not just for their games, but how they presented their brand.'
Swimsanity! is built in Unity. Which was a choice for the duo as its growing popularity caught their eye at the time and once they started learning it, it was the perfect match.
Have you already got the game and like the soundtrack playing throughout? If so, give major credit to the composer Joshua Mosley for perfectly capturing the atmosphere and making the set pieces similar to a film trailer or action sequence. Khalil proudly tells us, 'we really wanted you to feel like an underwater hero, so we wanted to capture the feeling of a heroic battle.'
Seas the day
Looking to the future for Swimsanity! Khalil stated they definitely have plans to support and grow it with some news very soon (recently announced releasing it on the PS4.) He confidently states, 'our plan is to be around for the long run' in regards to the next gen launches of the PS5 and Xbox Series X around the corner. While they also have about 2-3 prototyped games worked on as Decoy Games. Currently the brothers are solely running the game production, though it's 'never say never' for expanding the team as more opportunities arise.
Meanwhile, Khalil's thoughts on VR when mentioned about it give an honest reply,
It is definitely a growing technology trend, not just in gaming but you are seeing it in education, healthcare and other huge industries in the world. I for sure think it has a place in gaming, I just feel we need more unique, accessible, and replayable games. I am certain they will come, because there are great minds working on it.
The teams short, but sweet advice for any indie game studio about to start their journey is – 'Start now, stay patient, and network!'
Water you doing?
Swimsanity! by Decoy Games is out now on PC via Steam, PS4, Xbox One (will be free with Xbox Games with Gold on November 16th – grab it if you can) and the Nintendo Switch with plans for cross platform play. For further news and info, keep up to date by checking their Facebook, Twitter, Instagram and blog. Big things are expected from the familial pair shaking up the gaming industry. Squad up, play the game and have fun. Thanks again to Khalil for answering our questions.